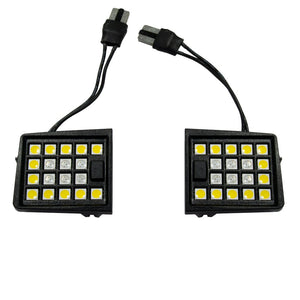 NEW! 2nd Gen TacomaDUAL COLOR ultimate map lights. We stuffed 24 white and 12 red LEDs into the same compact housing as before. Now there is no need to decide between red or white output, simply press the toggle button in the middle of the board to switch between output modes.

Our dual color map lights gives you the best of both worlds: high output white light for when you need to see everywhere in your truck along with night vision saving red light for lower light situations.
All 2nd gen map lights come in a factory matching housing to snap right into place of your original 2005-2015 Tacoma overhead console. The only modification required is removing the factory reflector bowls to allow for more clearance.